05 August 2015
It's my birthday month - Here's how you can get gifts!!
Free birthday gifts for everybody!!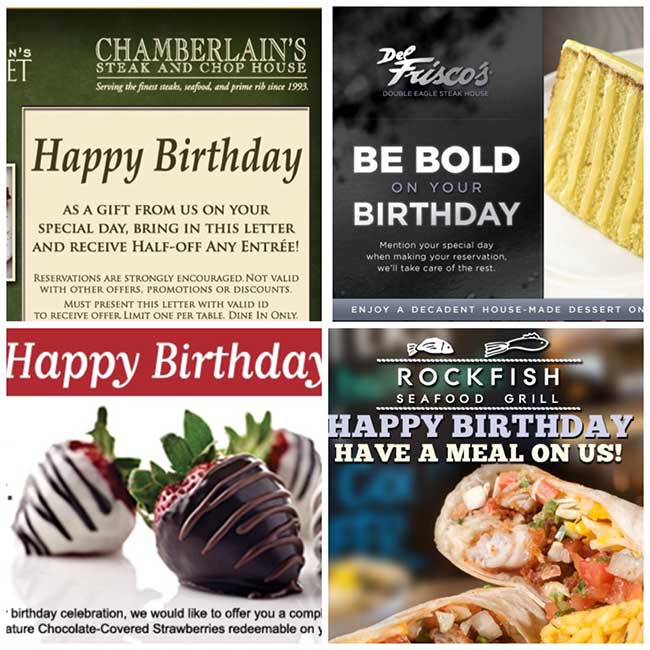 August is a month of great things - including my birthday!
I get free gifts for my birthday. Just by asking, you also can get these same gifts during your birthday month!! In getting ready for my birthday month, I have a ritual that I perform. For years I've prepared to log, track and plan when to redeem and enjoy the various birthday gifts that I am assured to receive via email. For the price of registering on the websites of various restaurants, retail stores and spa services venues, I'm rewarded with a host of birthday gifts and offers during the month of August. I've noticed over the years that if I don't redeem the free gifts the offer may not be extended the next year. Oh well... Even with that fact in mind I can say that my email is filled with valuable birthday treasures. Happy Birthday to me!! Happy Birthday to me!! Wonder what I get as gifts? Items to note are free birthday meals from Rockfish Seafood Grill, Cowboy Chicken, The Keg Steakhouse and a Chamberlains Restaurant of my choice (seafood or steak). If my wellness coach is reading this I must point out that I'm not enamored by the food. Not me!! (wink wink). My favorite gifts are the ones that are NOT food including a free beauty gift from Sephora, $5 off any purchase at DSW and $10 off any Victoria's Secret purchase. There!! Would you like to get any of these birthday gifts for your special day? If the answer is yes simply go to the websites of those establishments and register for their newsletters and/or birthday clubs. It's free and the gifts will begin pouring in throughout your birthday month. Interested in watching my log of what gifts are coming in?
Click here to see my gift list!
Feel free to download it for reference or if you'd like to have a way to also track your mountain of birthday gifts!! Check back often because I'm updating the gift list as they come in.
Happy Birthday to me! Happy Birthday to you!!
Carolyn