12 May 2017
10 Must-Know Retirement Savings Terms!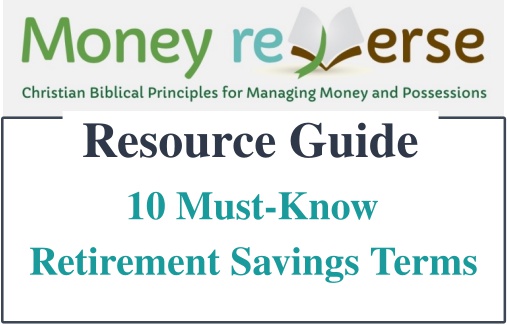 Do you have a retirement savings account? Got a 401k or a 403b plan? What about a 457b plan, a Roth or traditional IRA? All of these plans are created specifically to enable us to set aside money for our retirement while enjoying beneficial tax strategies. If you don't have a retirement savings plan I'd like to invite you to get in the game. You can't beat the results that are possible when you purposely set aside tax deferred funds for a time in the future while investing those funds to increase your returns. More about this to come! To invest your retirement funds effectively, you will need to understand a few things about the options available to you in your savings plan. To get you started, I've created the
Money reVerse Resource Guide - 10 Must-Know Retirement Savings Terms.
The Money reVerse 10 Must-Know Retirement Savings Terms Resource Guide is free when you subscribe to the Money reVerse mailing list.
Click here to subscribe and get the Resource Guide now!