30 May 2015
Credit and Debit Cards with Chips Are On The Way!
Throughout 2015 card issuers and merchants are adopting the more secure chip technology for credit and debit cards. This means that many of us will receive new cards with this technology embedded from our banks.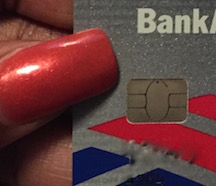 Cards with chip technology are easily identified by a small gold rectangular raised emblem that appears on the front left side of the card. This chip is located just above the first four numbers of the card. These cards, when paired with updated terminals in stores can be used to make purchases more securely as the embedded chip generates a unique code for each payment authorization instead of using the number on the card. Because of the added technology associated with these cards, they are more difficult to duplicate. Those that choose to fraudulently duplicate cards for profit tend to target the older magnetic strip cards for their card theft activities. Using chip cards in countries outside the US has resulted in lowering the number of fraudulent transactions and stolen cards. Stay tuned to Money reVerse for more about chip cards and new security regulations that will be in effect in October 2015. Until then, please take about 10 seconds and respond to a Money reVerse Chip Card poll.
Money reVerse Chip Card Poll
Question:
Have you received a new credit or debit card from your bank that has a chip?
Answer Choices: -Yes, I have received a chip card. -No, I have not received a chip card. -I do not carry a debit or credit card.
Click here to provide your answer and see how you compare to other Money reVerse readers!
Thank you for your participation!
Carolyn