07 July 2015
4 Compelling Reasons that you should be stock market savvy.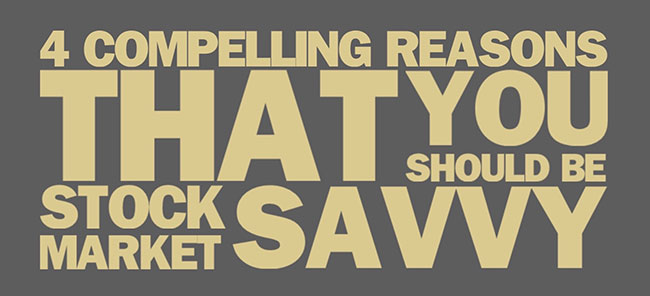 Think that understanding the US stock market is out of reach for you? Many of us do. According to an April 2015 poll by Savvyroo.com 65% of Americans were investing in the US stock market in 2007 and that number dropped significantly after the economic downturn that we experienced in that same year. The poll also showed that in April 2015 55% of Americans are investing in the stock market as individual confidence in this investment medium has been steadily increasing. In the bible book of Matthew, the principle demonstrated in parable of the talents can be applied to our lives today when we look at the concept of using money that we have in our hands to prosper. In this story it was clear that we are expected to increase what we are given by the master. The stock market specifically is not referenced in this parable but I see our financial markets as a method in which I use to generate increase which results in my promotion to be made ruler over many things. You should also see this way! (See Matthew 25:14-30) Having knowledge of our US stock markets can provide very tangible benefits to everyone – even those that are not actively trading stocks. Here's 4 compelling reasons that everyone should invest in themselves to become market savvy.
1. Making the most from your retirement funds requires you to know how to invest.
Gone are the days of corporations providing and investing your retirement "seed" money to ensure that those funds make the most returns possible. This was the benefit that we enjoyed when pension plans were the norm for most corporations. In the last 15 years many companies have done away with their pension plans in favor of the employee directed and employee controlled 401k / 403b options for retirement planning. Employees have the freedom and are expected to choose the investment funds within the plans to get maximum returns. If you're in charge of making investment decisions for your retirement planning, shouldn't you understand about our financial markets and investing?
2. World events affect world finances. Keep the world in view!
Our US markets are affected by many things outside of our borders. Extreme weather patterns, terrorist awareness and the Greece debt situations have been reasons for past market fluctuations. Because these events will likely be front-page financial news, following financial news and events will give you early opportunities to learn how your money may be affected because of world events and learn strategies to position yourself so that you can capitalize!
3. Benefit from consumer financial knowledge.
Consumer related financial changes such as mortgage rate changes, chip credit and debit cards and our US debt crisis are always front page financial news. Keeping a pulse on items that could affect us as consumers puts us in a position to make personal financial decisions quickly with a high level of confidence. Understanding our financial markets supplies us with the required know-how.
4. Research corporations quickly and easily!
Understanding stocks and how to research them provides you with the skills to deep-dive into the leadership, strategies, financials and forward statements of publically traded companies with a high level of confidence. This is a great skill for preparing for job interviews, sales calls and even sizing up your business competition! No doubt that becoming market savvy is a personal financial promotion. Without making one stock trade, having stock market trading capabilities can prove to be a worth while investment again and again. Do it today for a better tomorrow!

Carolyn