17 November 2016
Post Election Stock Market Focus - Expect Market Volatility!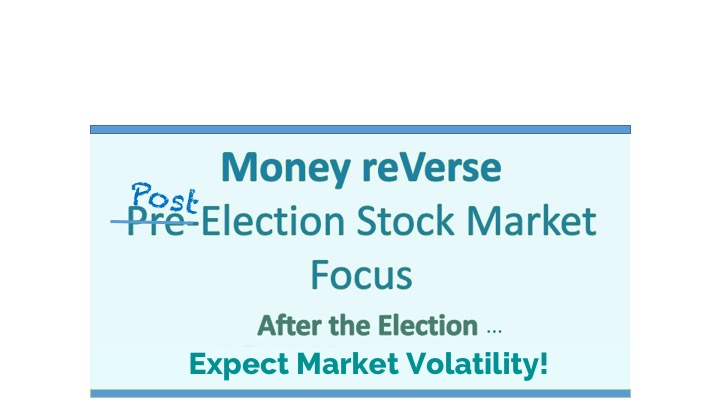 When our financial markets go through periods of times when the trading prices of stocks are going up and down unpredictably, it is certain that a large number of individuals and institutions are buying and selling stocks in large volumes. If this goes on for many days (as it often does) we see the result of this high volume trading in the "up & down" prices of individual stocks and the overall financial market. Volatility is defined as being likely to change in a very sudden or extreme way. Volatile markets are likely to have sharper up and down swings than what is considered normal. I personally look at the closing numbers of the Dow, S&P and the NASDAQ to detect the effect of market swings. I consider a DOW closing price of at least 300 points higher or lower than the previous day as a pretty volatile day. Anything less than a 100 point DOW closing (higher or lower) for me is considered a calm or sideways market day. The market volatility is measured and reported by the CBOE Volatility Index or the VIX.
There are many theories and technical details associated with market volatility including beta, sigma and standard deviation. For our conversation here, these concepts are not important. What is important to know is that there is a single cause for volatility. That reason is uncertainty.

As we do after each presidential election, expect this. Don't be alarmed or think that we're in for an immediate financial apocalypse. The uncertainty that results from political party changes in the office of the US president always introduces a fair measure of market volatility. It is important to be aware of what's going on and manage your investments in a way that minimizes your losses and harmonizes with your risk tolerance. Again, prepare for market volatility and be prepared to make the adjustments that you need to be able to rest well during times of high volatility. Again, the sharp market swings are caused by investor uncertainty. Market volatility rarely means that things are in an unstoppable upward trend or that the stock market is crashing. Keep your head, be aware of what's going on and work your plan! If you don't have a plan for investing during volatile times put this on your "to-do" list. If you are needing to expand your knowledge in understanding and navigating the financial markets it is time to consider taking a class and/or hiring a financial professional for assistance. Because the Money reVerse vision is for financial self-empowerment you can find stock market investing as a part of Money reVerse University.
Sign up for the Money reVerse 21 Days to Stock Market Investing course today!

View Previous Post in this Series