24 June 2015
Join Me! Dreampreneur S.O.A.R Mastery Coaching Call on June 30, 2015
Join me on the June 30th Dreampreneur S.O.A.R. Business Coaching Call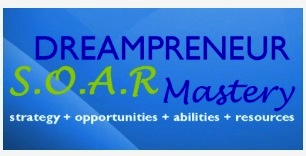 I will be sitting in the guest chair for the June 30th Dreampreneur S.O.A.R Mastery Coaching Call that will be hosted by Possibilities Coach, Shuronda Scott.
As a certified life coach, business consultant, author and motivational speaker, Shuronda helps others recognize possibilities (within) and opportunities (without) for greater success both personally and professionally.
In her weekly business coaching calls, those that join will be able to glean from business leaders and Shuronda, the Dreampreneur S.O.A.R. Mastery Coach, on how to successful start and grow a small business. In my past, I've launched and successfully exited two small businesses before establishing Money reVerse. I'm looking forward to sharing my experiences with others that are engaging in this exciting phase of their careers.
The Dreampreneur S.O.A.R Coaching calls are free and open to the public. You must pre-register to be assigned a spot. Register today for the June 30th session. Hope to hear you there!!

Carolyn