10 April 2016
Look at your money and win!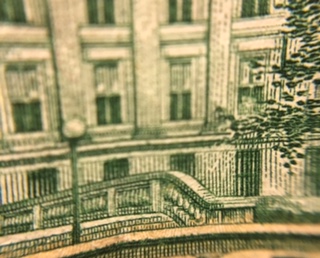 Recognize this peaceful walkway scene?
In addition to making a unique piece of artwork, this peaceful walkway scene is an up-close look at one of the bills in our United States currency collection
Can you identify which US Currency bill showcases this peaceful walkway?
Click here and submit your answer!
Provide the correct answer along with your email address and you will have a chance to win a hardback copy of the book
The Prayer of Jabez: Breaking Through to the Blessed Life
by Bruce Wilkinson. Submit your answer by Wednesday April 20, 2016 to win! The winner will be selected from a random drawing of all participants that supplied the correct response. The drawing will be held on Friday April 22, 2016.
Do you see the cartoon ghost in one of the upper windows of the walkway scene?
---
Contest Rules:
Official Rules: Eligible entrants must be a US resident age 18 or older on 04/20/2016. No purchase necessary to enter. Winner will be selected by random drawing of eligible participants. Eligible participants are individuals that meet the above listed criteria, respond to the specified poll question with the correct answer and provide email address to be entered into this prize drawing. Providing an email address also serves as an opt-in request for email electronic updates (follow by email) to Money reVerse website at www.moneyreverse.net. Each eligible participant may have a single entry for each submitted email address. Odds of winning determined by the number of entries. Winner will receive a hardback copy of the book The Prayer of Jabez:Breaking Through to the Blessed Life by Bruce Wilkinson after being selected in a random drawing on 04/22/2016. Winner will be notified by email and will have 7 days to acknowledge notification of prize winning. Failure to respond to winner notification in 7 days will result in the forfeiting of the prize and an alternate winner will be selected. Prize estimated retail value $7.95. Winner will be required to sign a release and affidavit of eligibility that allows the use of the winner's name and location and/or likeness in a marketing / winner notification campaign sponsored by Money reVerse.