31 May 2016
I've Received Healing of a Brain Tumor!
May is Brain Tumor Awareness Month!
I can't let the month of May end without focusing on Brain Tumor Awareness!
According to a report by CBTRUS Statistical Report (2012), there are more than 688,000 people in the United States that are living with a primary brain or central nervous system(CNS) tumor diagnosis. Of these, approximately 80% or 550,000 are benign tumors (not causing death or serious injury) and the other 20% or 138,000 are malignant (can cause death or serious injury). The National Brain Tumor Society is an organization that has worked to secure themselves in key positions in the areas of drug development, intensive research, advocacy, and human support areas to make a positive difference for those families that may be impacted by a loved one with a brain tumor diagnosis. They are working to do their part to make a difference! Great organization.
Learn more about them here.
For those that know my story, you know that my passion to learn, live, reach and teach about Christian kingdom finances was birthed in me when I personally was living with a tumor in my brain. After going through many odd symptoms, doctor visits, tests and re-tests I was given a brain tumor diagnosis. It was small but caused large discomforts. Surgeons recommended watching and attempting to control the growth with medicines before opting for what could be a difficult surgery. I prayed. I agreed. I heard. I heard the Holy Spirit instructing me to be still and not tell anyone about the diagnosis. I was also instructed by the Holy Spirit to turn off the TV. It was after a period of 2 weeks that I was released to share what was going on with members of my family. My TV has been off for over 16 years. In that time of petitioning the Lord for healing I developed a closer than close relationship with my God. Without me requesting it, He began showing me visions of God ordained financial wealth and elevation for those that are believers. No get rich quick schemes. No giving everything you own to the church. No marathon prayer meetings with people running around the church speaking in tongues. The visions that I saw had all of us following the financial plan that is outlined in the principles as written in the scriptures. I saw it and I believed it. I began living it and it works. As a result, I live a debt free existence – (yes even the houses are paid in full), I have excellent credit, savings, support family as needed and I invest and trade stocks and options. All the financial knowledge and skills that I used to achieve this were given to me by the Holy Spirit during the 4-year period of time when there was a trespassing tumor in my brain. My God is a healer. After 4 years of living with a tumor in my brain I got a good report of being tumor free. That was 12 years ago. May is Brain Tumor awareness month but the real story is that my God is a healer. No ailment is too big or too serious for Him! Approximately 7 years after being healed of a brain tumor and earthly views of money and possessions, I heard the Holy Spirit say, "Tell the people what I told you." In response to that instruction, Money reVerse was born. Our God has a plan for every life that He creates. Submit to Him and begin to embrace your spiritual purpose. That's the reason that we're really here. True happiness will come as a result of being obedient to the calling on your life. It's not just for those that minister in a pulpit in front of a congregation. We all are called according to His purpose! Get busy being you! If you're living with a diagnosis I'm praying for you. If you're not living with a diagnosis pray for those that are. Here's the scripture that spoke to me more clearly than any other when I was living with a brain tumor diagnosis: Be still, and know that I am God…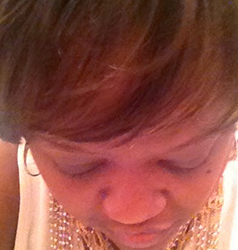 I will be exalted among the nations, I will be exalted in the earth!
Psalm 46:10 NKJV
Thank you for supporting Money reVerse! Carolyn