01 June 2014
Join me at the 4 "T's" Relationship Summit!!
I'm honored to serve as a guest speaker at The 4 T's Relationship Summit that is sponsored by Healing Thine Hearts Ministry. The Summit will be held Saturday July 26, 2014 at the Hilton Garden Inn in Richardson Texas.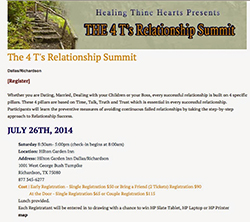 As the name implies, the focus of the summit is relationships. Whether you are dating, married, dealing with your children or your boss - every successful relationship is built on 4 specific pillars. These 4 pillars are Time, Talk, Truth and Trust. By attending this conference and hearing from the 5 guest speakers you will learn the preventative measures of avoiding continuous failed relationships by taking the step-by-step approach to relationship success.
---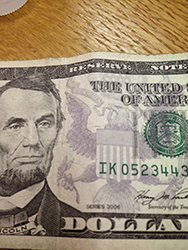 I'm excited to share insight on our personal financial "seasons". I'll share wisdom on understanding and our personal financial times as well as maintaining healthy relationships despite the differences in the financial timing of those individuals that are the center of our most prominent relationships. As money is always a strong topic of discussion in our marriages, single friendships and in relationships with our children and employers, this insight and steps for practical application can prove to be beneficial to everyone.
Get more information on the 4 T's Relationship Summit and complete your registration on the Healing Thine Hearts Ministry site.
This is going to be great! See you there!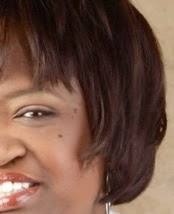 Carolyn