31 May 2015
Money reVerse Personal Finance School Coming Soon!
Monthly web-based personal finance webinars at a reasonable per-session price!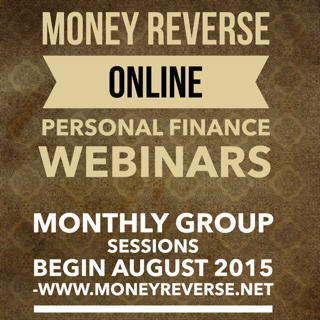 Ready to go to personal finance school? Money reVerse online webinars are coming soon! Monthly group teaching and coaching sessions on getting started on improving your financial condition. Topics will focus on the areas of budgeting/spend management, debt reduction, credit score increase, investing, savings legacy planning, current market and so much more! Join these online session from your computer, tablet or Smartphone device! No software downloads required. Sign up for individual topics that interest you! Each session is reasonably priced and will result in expanding your financial knowledge and advancing your financial position! Money reVerse webinars start in August 2015.
Stay tuned for more information and the opportunity to register!!